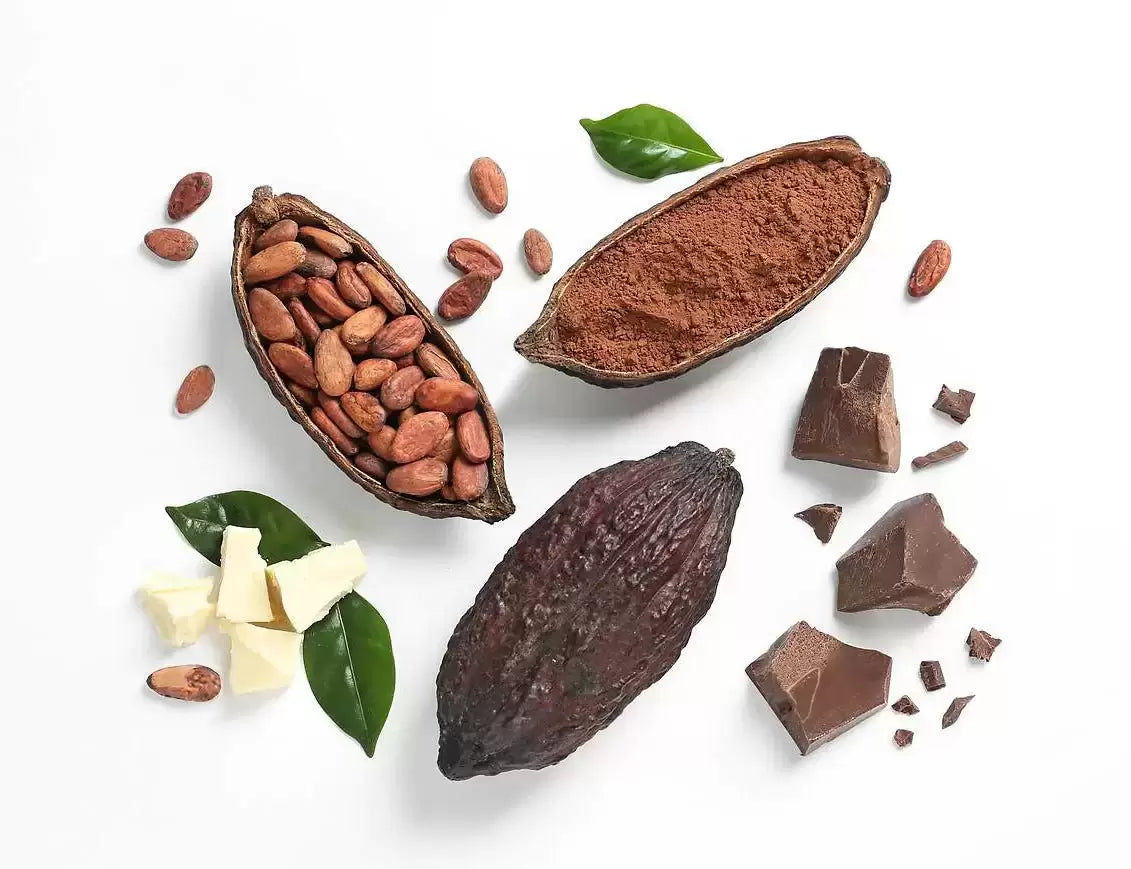 I am definitely not laid-back when it comes to my skincare routine! I start with a double cleanse, toner, double serum and eye cream. Even though I'm on the more combination side, I still like an emollient cream to retain all the moisture. Believe it or not, the main ingredient I commonly discovered in moisturizers is (drumroll) cocoa butter.
Cocoa butter (also called theobroma oil) is a plant-based fat taken from the cocoa bean. It's extracted from roasted cacao beans. In general, cocoa butter is a rich hydrator that promotes collagen synthesis - and it just so happens to be one of the many naturally derived ingredients in our very own Hydra+ Deep Water Cream!
Why We Love Cocoa Butter (and Why you Should too)
Keeps your skin moisturized with high amounts of fatty acids 

- 

Fatty acids help to hydrate the skin. The fat in cocoa butter creates a protective barrier on the skin acid mantle that holds in moisture and prevents your skin from drying.
Skin healing property - Cocoa butter is a primary component of many topical treatments for drying and irritating skin conditions. The rich moisture content and protective oil-based nature of cocoa butter eases itching and allows the skin to heal after a flare-up, commonly seen in over-exfoliated skin.
Protects against sun damage - The phytochemicals in cocoa butter guards against skin damage from harmful UV rays and lower your risk of skin disease. These polyphenols are rich in Resveratrol, which you may have heard of before! Resveratrol is a great natural antioxidant that protects skin against free radicals.
It is a great source of Vitamin E - which is a brightening and balancing antioxidant that protects skin cells from damage, while also softening skin.
Cocoa Butter VS Shea Butter
Cocoa butter is derived from cocoa beans from the cacao tree, while shea butter is derived from the nuts of the shea tree. Cocoa Butter is more of a hydrator, while shea butter has more emollience. Both are beneficial to skin health, especially for the fall, where you will most likely start using physical exfoliations with salicylic, lactic, and glycolic acids.
Luckily, our Hydra+ Cream has both butters, that will soothe any retinol irritation such as flakey, dry skin.
Does Cacao and Shea Butter Clog Pores?
Shea butter is non-comedogenic, while cocoa butter is typically not recommended for oily skin- we at Miraco Beauty have found the perfect blend to have a water-based moisturizer that is completely non-comedogenic for all skin types.
Must Read: Sleep Mask or Sheet Mask? Caring for your face when you travel
Other complimentary ingredients in our dream cream include Antarcticine, exclusively patented ingredient that's highly protective and skin healing, Jellyfish extract, an excellent source of collagen (like a baby's!), sodium hyaluronate or a more hydrating version of hyaluronic acid, and kombuchka, nature's probiotic for the skin.
 So final verdict? Please love cocoa butter. Use it on your face and your body day and night. I promise, your skin will thank you for locking in that hydration!
Comments (0)