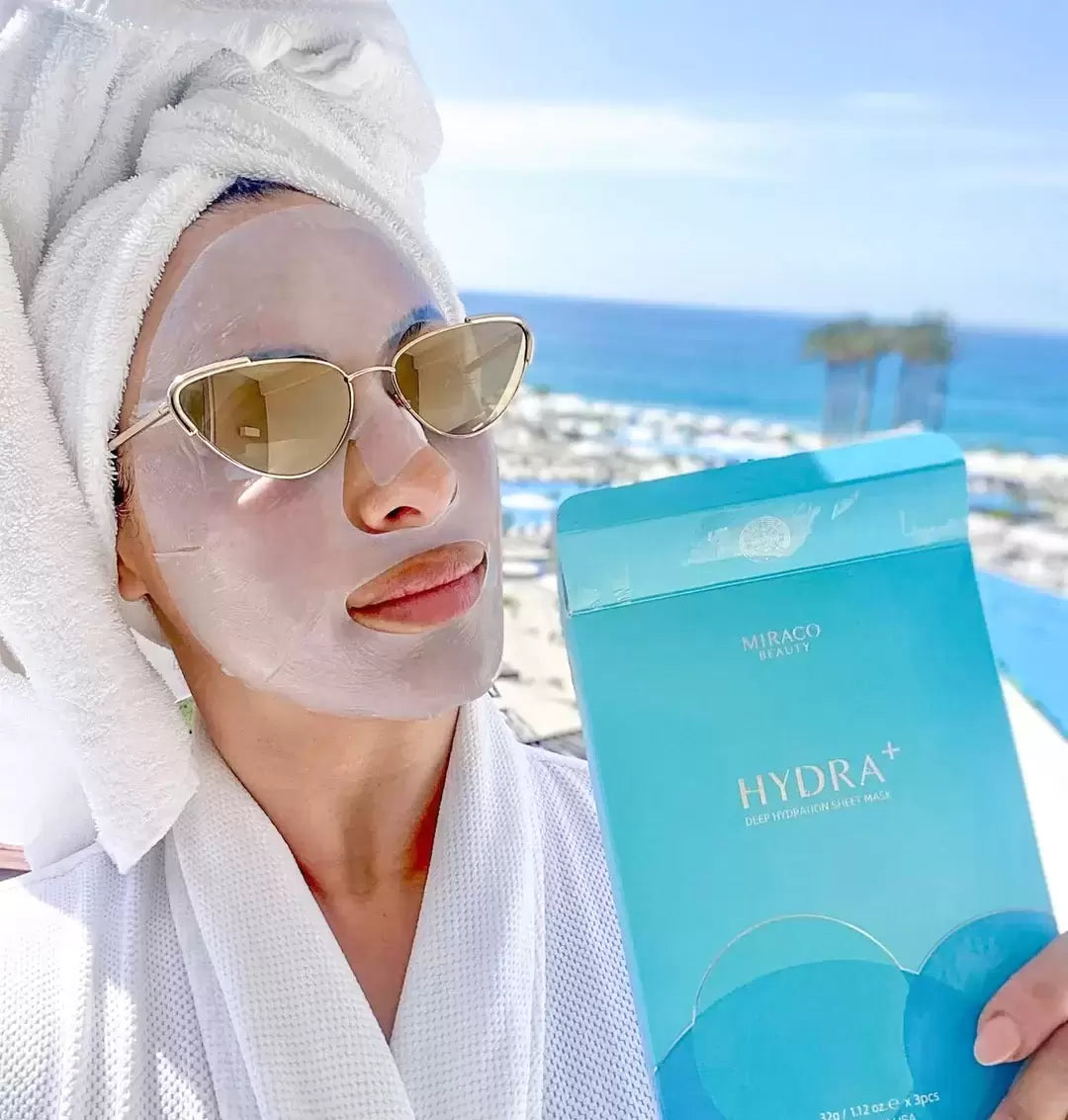 I traveled so much for leisure and for work before the pandemic but when everything came to a halt, working in the office became WFH. My hair and makeup routine went out the door and instead, turned into a quick mascara-concealer-lip gloss-messy-but-cute bun look.
I transitioned into wearing athleisure wear while my super cute wardrobe was gracefully falling out of trend. However, the one thing that didn't waver was my skincare routine.
Check Out: Why Cocoa Butter is the Hydrator Your Skin Needs
How to Up Your Skincare Game
Fast forward to me saving my sanity by taking short staycations around CA. Whether I traveled in a car, on the train or airplane the one thing I realized was the air conditioner or recycled air sucked the life out of my face – no matter how much moisturizer I applied beforehand.
So when it came time to freshen up my face with a little more makeup, my skin basically ate whatever I put on my face because she's thirsty! What's the solution? I started using sheet masks while traveling and realized sheet masks would be my saving grace. Let me tell you – find the right sheet mask and you can say 'girl bye' to parched skin.
Must Read: Does Face Massaging (Really) Work
Self-care Tips While on Vacation
When national and international travel started to open up, I decided I'd take a much longer trip and visit Mexico. Knowing that my moisture barrier would take a beating on the plane and in the sun from all the free radicals, I brought all of my skincare with me- including Hydra+ Deep Hydration Sheet Masks from Miraco Beauty.
I slathered one on while I was on the plane and slept for 2 hours. I also took comfort in knowing that this mask would also provide a protective barrier to block and protect my face from pollutants (even with another protective face mask over my nose and mouth - not ideal but we don't have a choice). I woke up to plump, hydrated skin that I followed with a moisturizer and sunscreen.
And because the mask is made with a bio-cellulose material and the serum's ingredients are intensely hydrating, it didn't dry out. I also found that using the mask after a hot shower helps to lock in hydration and using it after a long day in the sun is beneficial.
Sleep Mask Vs Sheet Mask
 Now, let's talk about sleep and eye masks! Sleep masks (in skincare) typically contain active ingredients such as retinol, AHAs, and BHAs and aren't very travel-friendly.
If you're going to a cold or arid climate, you're better off taking a sheet mask with you. Leave the exfoliation till you're back home! Luckily, our Hydra+ Mask is easy to travel with, protects your skin, while providing a smooth, filter-free canvas. Got wind or sun burn? Antarcticine will be your new best friend.
End Your Routine with an Eye Mask
Everyone should travel with an eye mask, as it gives a therapeutic, luxury experience. I prefer to wear it when I sleep and not on the plane. Why, because planes are – well, riddled with germs and bacteria.
The last thing I need is for my eye mask to have come in contact with germs! So, save the sleep mask when you're back from vacation and use your sheet mask regularly, especially when you travel!
Comments (0)