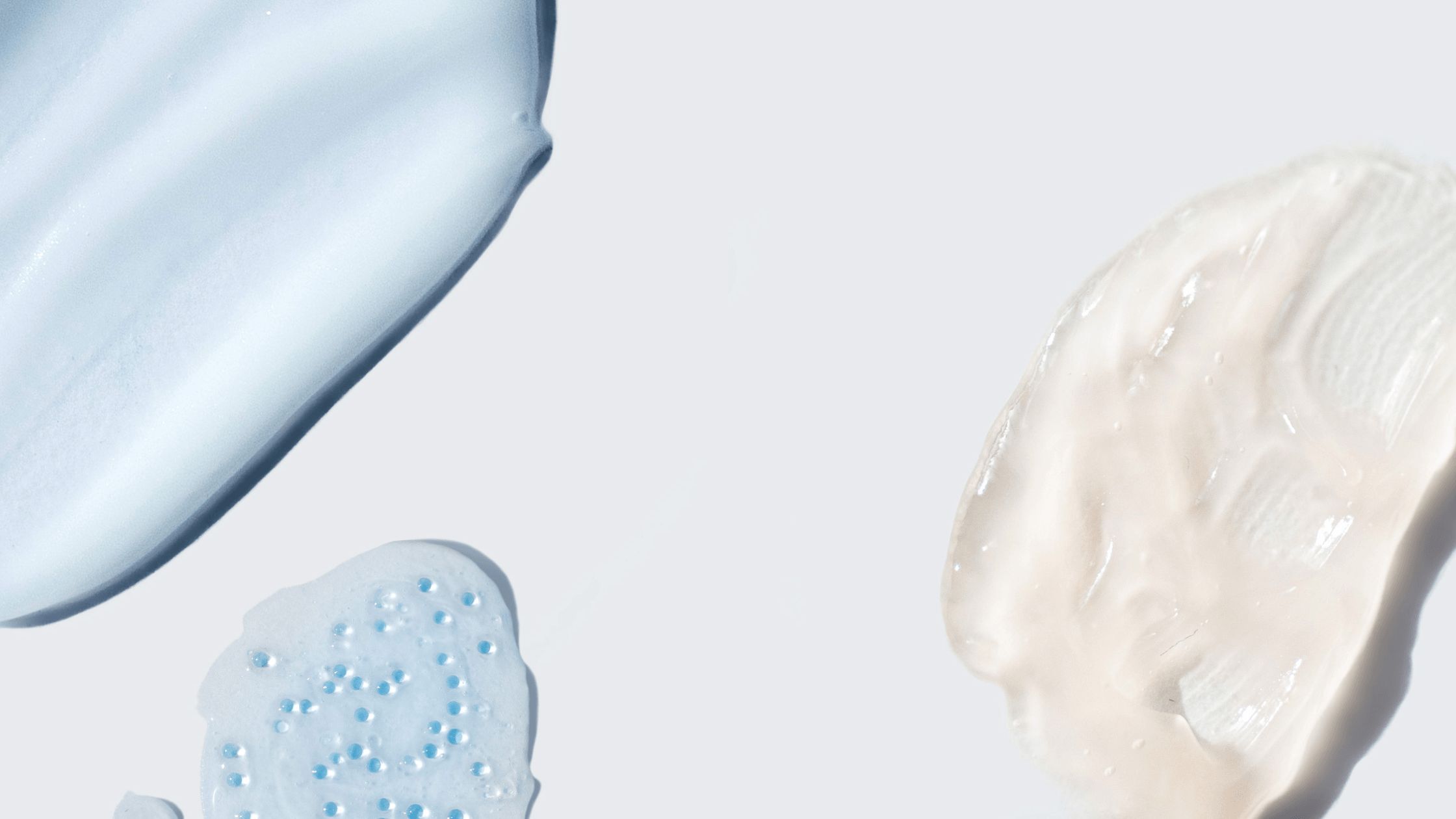 What Is Hydration?
Hydrating the skin is simply restoring water loss. Our dermis, which is 10-40 times thicker than the epidermis, stores much of the body's water supply. Just on its own, its water content is around 60%. The word hydration stems from the Greek word "hydra", which literally means water. So, when skincare products or brands refer to hydration, try to think of water-based, lightweight, and fast-absorbing textures.
Hydrating ingredients, also known as humectants, draw water from the environment onto the skin, which helps with dehydration, dullness, texture, fine lines, and wrinkles. Some great examples of humectants include glycerin, hyaluronic acid, polyglutamic acid, urea, sorbitol, panthenol, sodium PCA, trehalose, etc… When your skin is dehydrated, fine lines and dullness are more noticeable than usual. And, since humectants are suitable for all skin types, think of it as a skincare necessity. 


What Is Moisture?
Replenishing water is easy (hydrating), but the real challenge is retaining it. Hydrating isn't enough to keep your skin moisturized, as water quickly evaporates. To maximize hydration and your overall skincare routine, it's important to seal everything in with a moisturizer. Moisturizers trap and lock in moisture to build and repair the skin's moisture barrier. Moisturizers typically feel creamier and thicker than hydrating serums.
Our skin consists of three primary layers: the epidermis, dermis, and hypodermis. Transepidermal Water Loss (TEWL) is a process that the skin regulates with proper hydration and moisture. A damaged skin barrier occurs with water loss, resulting in skin irritation, flaking, itchiness, and tightness. This can be prevented with proper moisturizing ingredients, called occlusives. Occlusives include fatty or waxy substances, lanolin, lecithin, cetyl alcohol, stearic acid, ceramides, petrolatum, squalene, and cholesterol. If you live in an arid or polluted climate, and experience flakiness and peeling, chances are you are lacking occlusives in your skincare regimen.


What Are the Differences Between Hydrating Vs Moisturizing?
Hydrating ingredients, also known as humectants, are crucial to a proper skincare routine. Followed by moisturizing ingredients, also known as emollients. These two make for the most ideal routine and are neccessary for all skin types. Other moisturizing ingredients, occlusives, are best for dry, sensitive skin, and mature skin types. Occlusives which are waxes or mineral oils, have the thickest texture. Mineral oils can also be clogging for oily skin types.
Hydrating ingredients (humectants) - Humectants attract water onto the skin and prepare the skin for moisture. 
Medium moisturizing (emollient ingredients) - Emollients soften and repair the skin barrier by working as a skin protector to retain hydrating ingredients within the skin cells.
High moisturizing (occlusive ingredients) - Occlusives create the thickest barrier over the skin, and are recommended for dry skin.



What Do You Need? A Hydrator, Moisturizer or Both?
Everyone should hydrate and moisturize, regardless of skin type. A healthy skin barrier blocks environmental stressors and delays signs of aging. Regardless of your skin type, proper hydration and moisturization are essential for a healthy, radiant complexion. Note that hydrating your skin is not only topical; you'll want to consume plenty of water daily to help rehydrate and restore normal water loss in your body. 
Oily Skin Types
Contrary to popular belief, most of the time oily skin is caused by lack of hydration. If the skin is dehydrated, it will cause an excess of oil production. Because the skin is not moisturized, TEWL occurs, leaving the skin dehydrated, and compensating through oil production. The key is using lightweight, non-comedogenic skincare products.
Normal Skin
For normal and all skin types, hydrating and moisturizing help maintain a healthy skin barrier and prevent dehydration, which can lead to premature aging.
Dry Skin
For dry skin, these steps are crucial to prevent flakiness, tightness, sensitivity, fine lines, and discomfort. Try incorporating emollients, such as shea butter, plant oils, and fatty acids both day and night either in your moisturizer or face oil.
Combination Skin
Combination skin requires a balance of hydration, oil control, and moisture.
Sensitive Skin
Sensitive skin benefits from gentle, non-irritating formulas that provide hydration and calm inflammation.


How Much Hydration Does Skin Normally Need?
The skin is hydrated from the inside out and is reflected through water intake. Increasing water intake not only benefits overall health but also skin appearance. The National Academies of Sciences, Engineering, and Medicine recommend anywhere from 9-13 cups of water daily.


What Skincare Products Will I Need?
Maximizing your skincare routine by using non-comedogenic and non-irritating ingredients is crucial to balancing and protecting the skin's natural barrier. For all skin types, we recommend:
Your favorite SPF (AM)
Hydrating Serums / Water-Based Hydrators
All skin types can benefit from a hydrating serum. You've probably already heard about the famous ingredient "hyaluronic acid". Hyaluronic acid (H.A.) is great because not only does it add hydration back into the skin, but it also treats fine lines and wrinkles. However, when purchasing a hydrating serum, make sure that it contains more than just H.A., as it works best in combination with other ingredients such as collagen, antioxidants, and other humectants.
Water-Based Moisturizers
Water-based moisturizers are great for oily skin, summertime, humid climates, and before makeup application. These hydrators absorb quickly and provide hydration without adding excess oil to the skin and are perfect for layering. However, those with very dry skin may need to layer a heavier cream or oil over a water-based moisturizer for optimal hydration.
Thicker Moisturizers
Thicker moisturizers, such as creams and balms, are ideal for those with dry, dehydrated skin, as they provide long-lasting hydration and help repair the skin barrier. They are also a great option for use during colder months or in dry climates when the skin is more prone to flakiness and irritation.


What Are Miraco's Solutions to Maximizing Moisture and Hydration? 
Miraco Beauty is inspired by the ocean's healing magic. As the sea's analogous to human blood plasma, think of it as an extension of the ocean, in the way both serves and supports life. It's why after a nice dip in seawater, our bodies feel rejuvenated, relaxed, and nourished.
By using innovative biotechnology, we're able to create marine collagen and jellyfish collagen that not only provide superior anti-aging, hydrating, and moisturizing benefits, but also help reduce waste and protect the environment.
Not-your-average hyaluronic acid serum. This collagen serum features Antarcticine®, collagen, hydrolyzed hyaluronic acid, trehalose, vitamin E, and trace minerals. Hydrolyzed hyaluronic acid is a form of H.A. broken down into smaller molecules, providing superior hydration and anti-aging benefits than regular HA. This ultra-lightweight serum balances pH, and combats dullness, inflammation, and dehydration. Prep your skin for moisture and experience visibly plump, bouncy, and radiant skin.
The Hydra+ Cream is a blue dream cream for your skin. It has the perfect balance of hydrating and moisturizing ingredients and is a water-based moisturizer. Although it does contain kinds of butter and avocado oil, the percentage is low enough for all skin types- dry, oily, combo, you name it. It layers beautifully under a fresh face of makeup and protects the skin microbiome. This peptide moisturizer is a perfect addition to your current skincare regimen.


S-Cell Super Cream (for drier, mature, or combo skin)
An efficacious and revolutionary anti-aging super hydrator that smooths fine lines, restores radiance and comforts the skin while locking in moisture levels. Moisture-rich, light, and non-greasy, featuring anti-aging peptides, EGF (Epidermal Growth Factor), collagen, and ceramides, this moisturizer lifts, builds skin's strength, elasticity, offers protection against cell damage, and targets dark circles and hyperpigmentation.
Our Hydra+ sheet mask is like an instant facial with a soothing burst of hydration you've never experienced before. Our innovative, bio-cellulose gel-like sheet mask is made with biodegradable coconut fiber technology. This allows the mask to easily grip onto the skin, enabling the serum to penetrate deeper and longer wear time without drying out. Have sensitive or inflamed skin? Use this deeply moisturizing and brightening mask once a week for soft, plump, and radiant skin.
Comments (0)